As the pandemic continue, many of us has been operating business from home, buying grocery and household items online. The Covid-19 lockdown has already heavily impacted on how we run business which was shifting consumers and business behaviours. As a resulted more and more people must do shopping online to avoid in-store experiences. Many businesses owners taking advantage of options that limit in-store interactions like buy online, pick-up in store (BOPIS).
Online flowers business has grown strongly especially during the covid-19 lockdown, driven primarily by the increasing popularity of online shopping for birthday flowers, sympathy flowers, get well flowers and funeral wreath. Many bricks-and-mortar florists has changed their business model from bricks-and-mortar to buy online with same day delivery, order online and collect in store.
Click Here for 2021-2026 Online Flower Shops in Australia industry outlook
Who is this guide for?
If you own, manage a bricks-and-mortar flower shop looking for another stream to maximise your revenue or fresh florist want to start an online flower business, this guide is meat for you. Opening an online flower shop, like any new business, requires lots of hard work, your time dedication, and passion. This guide provides you the best practices to help you to start an online follower business effectively.
Step 1: Define Your Target Market & Customers
As a florist, you need to know who your customers are. Defining who are your customers will help you target customers who are willing to pay for your floral arrangements, birthday bouquets, sympathy flowers bouquets etc… This is an effective way to help you to create product prices range that effectively reach your target customer and generate sales.
On the other hand, if you are a florist who operate independently, you will need to define how many suburbs in your areas you can delivery your flowers and how long will it take you to delivery flower to your customers. Once you have defined your target market and customer, you will find it easier to plan where and how to market your business online.
Step 2: Create Your Own Styles & Range
As a florist, you are the flower expert have a strong knowledge of floral designs and creative skills to build your own brand on fresh flower quality products and services that you provide to your customers. When you start to create a floral arrangements range, it's best to start with a plan and do your research. The plan will help you identify how many birthdays floral arrangement, sympathy bouquet etc… you should have in total in your product list.
Your plan to create your own floral arrangement styles help you to have a unique creative designed which distinguish yourself from your competitors and to avoid launching a poorly floral designed, or your floral designed that does not meet your target customers expectation, or your flowers prices are could be too high overestimating your target market.
Here is an example of 5 stems of sunflower bouquet that we found on google shopping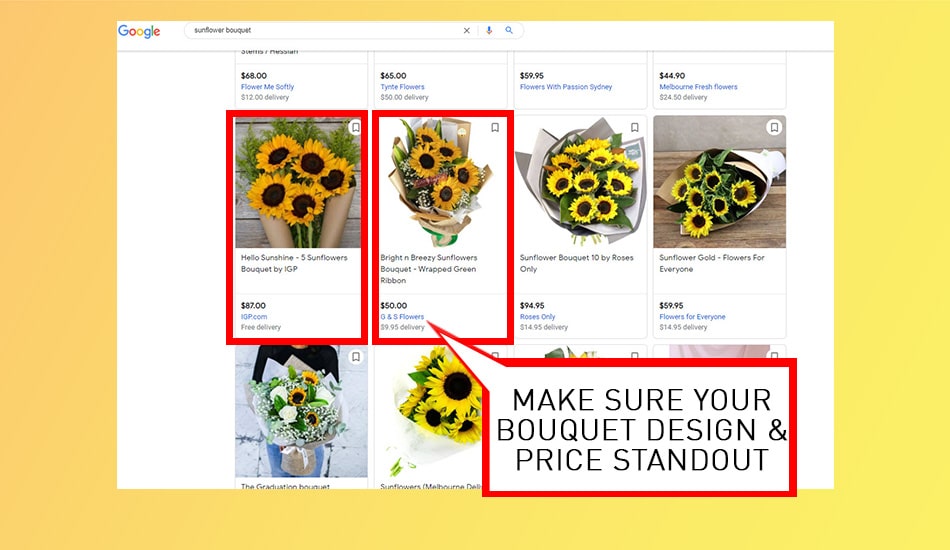 Step 3: Your Flower Website
Show the world what your small flower business can offer online, your flower website is your business showroom online. Your flower website not only helps you to promote and sell your birthday flowers, romance flowers, sympathy bouquets, or wedding flower services, but it also allows you to distinguish yourself from your competitors. As you are running a retail flower shop online it is ensured that your flower website stands out from your local competitors.
There are many ecommerce website designers to choose from your best choice to go with a website company developer who does not used web template to avoid having a flower website with the same look and feel with your competitors. Some flower website providers give every florist the same look and feel this is not good for your business branding.
G & S Flowers is one of unique website designed example.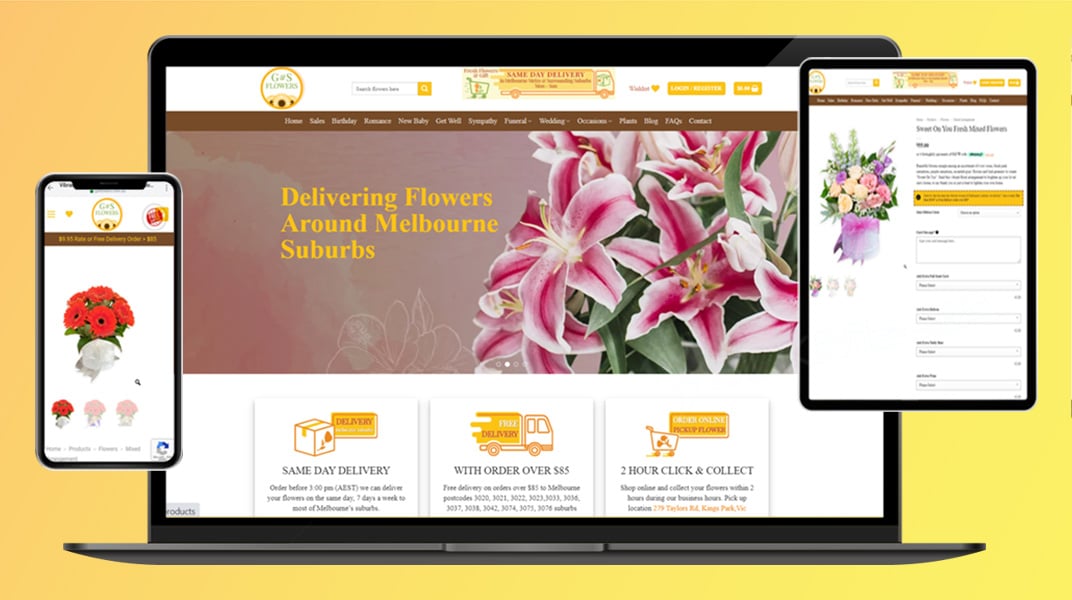 Step 4: Flower Shop Operations
Assumed that you already have registered your business, have insurance and other legal requirements covered. The following list what should be included in your flowers business operation.
Set up Terms and Conditions
Set up flower care instruction
Set up card message ideas
How customers will contact you.
Templates to answer common client questions
How will you handle your deliveries?
Step 5: Build A Strong Online Presence
Along with having a professional flower website, it is time now to build a strong online presence.
A strong online presence is essential for your flower business to build your brand identity and gain the trust that you need to attract more customers. Providing your business information accessible online also gives your customers an easy way to find out more about what your business offers in term of pricing and flowers care information and so on.
Your business information visibility in the google search results can determine whether users land to your website or could be end up to your competitor's site.
Final Thought
Silk Media Web Services is a leading custom ecommerce website designs specifically designed for florists. We work with florists and conduct users research to understand the users' needs, behaviours through various qualitative and quantitative methods, through this processed we understand what works when selling fresh flower bouquets online. We create a unique design ecommerce landing page for each client base on their business requirements to showcase their flower products that deliver a great ser experience (UX) that helps buyer decide to buy your products over your competitors.
Build for growth and success flower business!
We will work with you from initial stage to deliver result and your new flower website needs to work as hard as you do to convert potential leads into customer. Our dedicate team help you to build high quality flower websites to maximise the user experience and ensure that the user don not leave your website without converting leads into sales. Everything you need to get your flower business online today!
In this uncertainty time, it makes sense to choose a local over an offshore provider. Choosing a local services provider, especially a small business to support does make a different to the Australian community and economy during the covid-19 recovery process. With so many credibility coming through by having a flower website online, it has never been a better time to have your own flower business website with a small amount of an investment. Need a flower website? Contact Us Now!
Are you a florist who wants to open an online flower business?
Join the discussion in the comment below and contact us to get your flower business logo for free of charge.
All content Copyright © 2021 Silk Media Web Services unless otherwise stated.
DON'T FORGET TO SHARE THIS POST TO