Bitrix24 Consulting and Services Partner
Silk Media Web Services is a Bitrix24 Certified Consulting and Service Provider specialize in Bitrix24 software consultation, implement, third party application integration, data migration, and training on both cloud and on premise versions.
Our consultants work directly in partnership with your company every single step of the way, from the initial stage of leaning and understanding about your company requirement. It is goal to meet your expectations and support your objectives through the combination of our technical and creative expertise and understanding your business.
With our expertise at your side and we always walk the extra mile to ensure that you are completely satisfied with the Bitrix24 software. We are dedicated to getting your team running as efficiently as possible through training and rolling out the Bitrix CRM platform. Contact Us for a Free Demo Meeting
Bitrix24 in Action
Bitrix24 software comes with over 35 handy tools package in a single application, seamlessly integrated with each other. It is includes CRM and project management, quotation, invoices, sales funnel tools. An online file storage sharing and document management, real time communications video conferencing, instant messaging and email, and VOIP telephony.
Social Intranet
There is no denying that the current development of social intranet has helped businesses interact with customers in a superior customer services manner. Social intranet feature comes from the fact that they solve a basic problem and is to connect employees across the departments within the company. Social intranet provides you with access to colleagues, news, information, and knowledge, and to that intangible but important thing called organizational culture and all these leads to better collaboration, connectives, and knowledge sharing.
Tasks and Projects
Bitrix24 has extensive organizational features, which enhance efficiency at the individual and teamwork management activities level. Tasks can be define for oneself or assign to a colleague, or delegate after the receiver is receive. Project can have a dedicate group where all of the files, discussions, and tasks pertaining to that project are stored and accessed only by those users who are relevant to that project. Time spent on each task within the project can be track, and tasks are integrate into the group calendar. Projects can be create in the Extranet, so clients or partners can participate fully in them.
Communication
Real Time Communications, Bitrix24 gives you a wide choice of Real Time Chat (RTC) tools, from instant messaging and group chat to phone calls, mobile messaging, video calls, and videoconferencing. The RTC tools are built into your Bitrix24 software.
Instant Messenger is the internal messenger delivers system notifications and instant messages. All messages are save in a history and are index by the search function, and the most recent messages appear at the top of the list.
Group Chat you can invite multiple colleagues to chat sessions and discussion immediate issues conveniently. Chat participants can be intranet or extranet users, and the chat thread itself can save in each users chat history.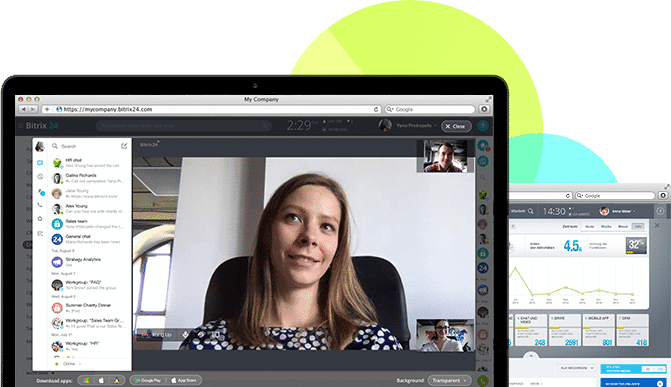 To see how Communication in Action! Contact Expert Team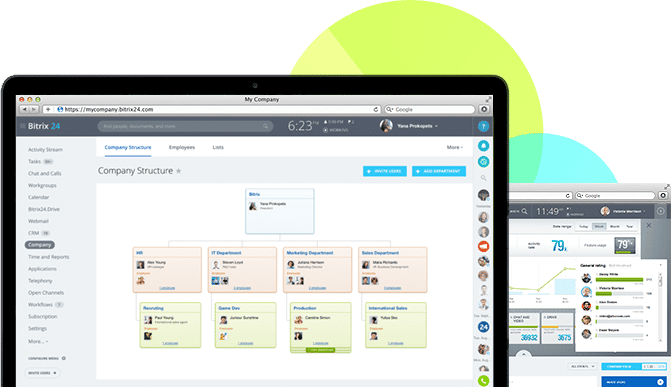 To see how Human Resource work in Action! Contact Expert Team
Human Resource
All the HR core features, from an employee directory and a self-service portal to leave management and work reports are wrap in a social interface that your workers and HR officer will love to use. The company structure represents the hierarchy of the organization with departments and sub-departments. Bitrix24 allow you automate workflows, such as Leave Approvals, Business Trips, Internal Help desk, Purchase Requests, and Expense Reports.
In the employee directory, you can easily find contact information or filter the list to find the right person for your inquiry. As a manager, you can export the employees list to Excel or Synchronize your contact list with your iPhone, iPad, or Android device and you'll always have the current contact data at your fingertips!
Bitrix24 CRM in Action
Bitrix24 CRM provides a platform to organize and track activities with customers, agents, and potential partners. All new activities including calls, messages, meeting are connect with a contact or company and further interaction can be plan, and carry out analysis, perform segmentation of the target audience as precisely as needed.
Managing Interaction, incoming contacts or leads can be divided among sales managers, marketing campaigns can be analyse, and access permission to any deal or lead can be vary depending on its status.
Telephony in Action
Use Bitrix24 to call to any mobile phone or landline, domestically or internationally. You can call directly from the CRM and record the conversation. You can rent local phone numbers in 60+ different countries or 1300 or 1800 create internal phone number extensions for your employees, and set up call queuing and call forwarding. Pricing lower than Skype and most other IP-telephony services.
If you have office or cloud PBX, or can provide SIP-trunk, you can keep your current phone number.
Document
Uploading your document files to cloud or on premise server will make them accessible in a document management system. Documents, videos, and files can be collaboration, download, or private use and can be search internally.
Shared Documents, Bitrix24 comes with three types of Drives. My Drive is a personal file storage to which colleagues cannot access.
Benefit of Using Bitrix24 Software
66% OF FACEBOOK USER
When it comes to social media platforms, Facebook continues to dominate. It remains the most popular platform among both marketers and consumers. 66% Facebook User say they Like or Follow a brand on the platform.
90% OF INSTAGRAM USERS
Among all social media platforms, Instagram likely sees the most evolution, 90% of Instagram users say that they follow a business on this platform, which translates to IG users being keen on interacting with brands they like.
90 MILLION OF LINKEDLN USER
LinkedIn is the largest professional social media network, this makes it the ideal platform for B2B marketers as well as employers and job searchers alike, and with 63 million of them are in decision-making positions.
One of the most important aspects of creating quality content for your business is targeting it at your chosen audience on social media. Get quality content for your business, let our graphic designer design it for you!