Situations where cars break down or have other problems on the side of the road happen often. These are all things that towing companies and their drivers do all the time. A professional website can help your towing business in a lot of ways. Your website should not only be the centre of all your marketing efforts for your towing business, but it should also be an online storefront. If your towing service doesn't have its own website, it might as well not exist at all.
The best idea for a website about towing is to have content that is relevant to the services you offer and features that make people want to use your services instead of those of your competitors. The website's content should be tailored to meet the needs of tradespeople only, so that they can connect with more local customers. Using a well-designed website for towing services can help you build your brand and show that you can be trusted.
Creating focus
What is the focus of web design? The primary objective of the web design process is, to put it as simply as possible, to build a visually rich, engaging, and useful website that enables users and businesses to achieve their goals. This includes CTA buttons, links that can be clicked on, and a phone number that can be clicked to call. Fill out a free quote form with all relevant information, such as the location address, and request a call back form if you are considering creating a focus.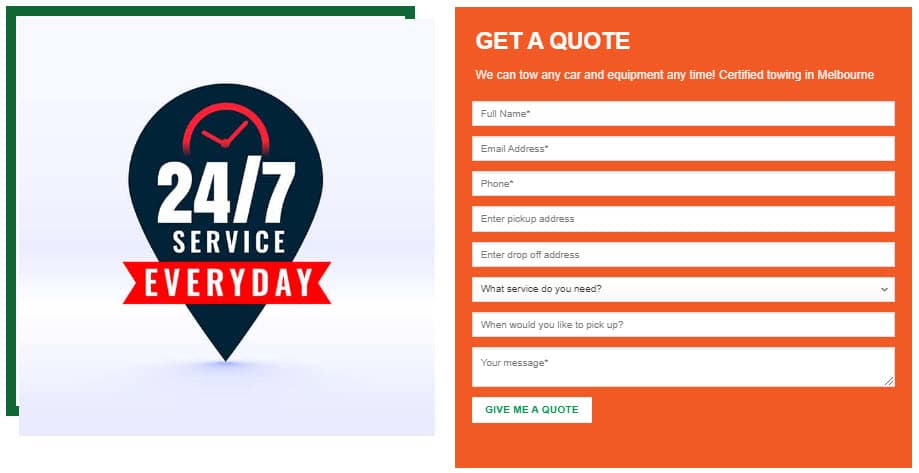 Creating trust signals
Trust is a human emotion that can be cultivated intentionally and developed organically through the process of developing a connection with the target of one's trust. When it comes to the creation of websites, trust signals are any symbols, icons, messages, or other design elements that are included on a website in order to foster feelings of safety and security in users who are transacting business with an online company. This helps reduce the amount of risk that is perceived by the user.
Google review
What does it mean when someone leaves a review on Google? Reviews of your company instill confidence and credibility in prospective customers; they are a source of empowerment and have a direct impact on the revenue generated by your company. Reviews that people leave on Google have a lot of weight and can help your business stand out from the competition. This can help you grow your business quickly. Having many Google reviews for your towing business is a great way to market your business.
Your customers listen to each other!
Have a look at our most popular towing website packages here.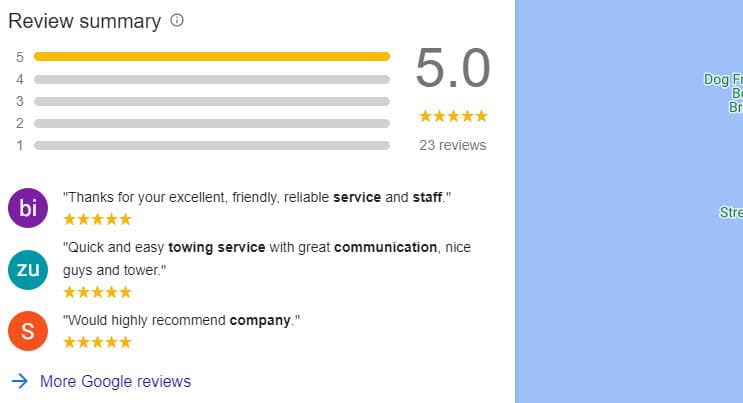 A well-designed website can boost your business.
If you want your online towing service business to be successful and drive conversions, it needs to have a well-planned landing page that shows customers about what your business offers, such as social proof, trust indicators, an optimized conversion rate, a catchy headline, and other things, in order to get visitors to click a CTA button. Utilizing best practises that result in a high return on investment is the method that will most effectively allow you to construct a solid foundation for your company (ROI). Your customers will have the very best user experience possible as a result of this, which will make them very happy.
Want your towing website to shine? For the best price, contact us.
Final thought
It doesn't matter how small your towing business is; having a website for your towing business will enhance your brand's exposure online and help convert online prospects into local consumers. Your towing business may now compete with the largest national companies by having a presence on the web. Customers who need towing services in their area can visit your website at any time and from any location in order to make a reservation for those services.
GET A FREE QUOTE