According to 2019 Google Shopping and Retails insight report, 90% of global shoppers saying, they used Google online search for products and services before visiting a store. It is important to ensure your business online presence is both robust and up-to-date with your company information about products and services. With more than 15 million users update their "My Google Business" MGB each month, we know how important it is and with the ability to quickly make changes your business information and such as trading hours or adding a phone number, or to sharing COVID-19 safety requirements with customers. Therefore, My Google Business is all the effort worth it, regardless of whether you are a local, regional, national, or international company.
If customers search for a restaurant you manage, they can find information, you have added, such as when you are open and where you are located. They also might get information you have not added, such as a link to your menu or photos customers have uploaded of meals they have enjoyed. The combination of information provided by you and other sources lets customers make informed decisions about your location. Users may also find personalized recommendations and matches based on their preferences. The simple answer is YES it worth it to have Google My Business.
If your food business is affected by COVID-19, update your Google My Business profile to provide the most accurate information to your customers. The updates will show on your Business Profile on Google Search and Maps.
Google My Business is a free tool that lets you manage how your business appears on Google Search and Maps. When it comes to your business's online presence, putting your best foot forward matters. If you have not done so yet, head to the Google My Business site and set up your listing from there. The process involves providing your company information and verifying ownership over the phone, via SMS, or by requesting and receiving a postcard to your address from Google.
Once the setup steps is complete, manage your Business Profile by adding and editing as many details as possible including your contact details and store hours, brochure, products and offer so customers know when and how to contact you and learning where and how people are searching for you and be actively engage with your customers.
Optimize Your Google My Business Listing
Here are some basic but crucial tips for optimizing your listing:
Ensure that there should only one profile per business, as this can cause problems with how your information displays on Google Search and Maps.
Presenting your business in the way consistently to your customers across company logo branding, stationery, and other marketing material.
Make sure your address or service description area is accurate and precise.
Use posts to promote events, offers, and content that link back to your website.
Choose the few number of categories that describe your overall core business.
Engage with Customers on Google My Business
With a Google My Business, you get more than a business listing. Your free Business Profile lets you easily connect with customers across Google Search and Maps. Whenever possible, go beyond just providing basic info by adding photos of your store and encouraging your customers to rate and review your business. These things make your Business Profile a lot more attractive and enticing to shoppers.
An excellent example of a New Business Profile on Google done right comes from the Online Uniform Promotional Gears. Not only does Promotional Gears Business Profile contain all the important details about the business, it also has a customer reviews and lots of photos showing the inside and outside of the shop.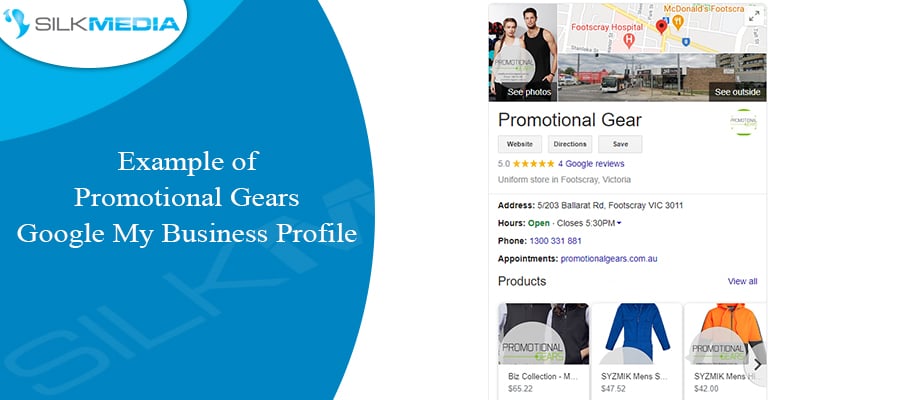 How do I sell product on Google Shopping?
Looking up a retailer's stock inventory online has been a "thing" for a while now, but COVID-19 has dramatically accelerated this trend. With consumers wanting to limit their trips to physical stores, many shoppers are now checking a store's in-stock items. Read more about Google Shopping