Adapting best practices for your business that elevate the Customer Experience (CX), will generate a great Return on Investment (ROI) and that the best way to build a strong foundation for your business!
What Customer Experience Is & Why it is so important?
Customer Experience (known as CX) is the interactions and experiences your consumers responses during all stages of the consumption process including pre-purchase, consumption, and post-purchase stages. The consumer response either directly or indirectly contact to your company. The direct contact normally occurs during the purchase of products or services and it usually initialled by the consumers. On the other hand, the indirect contact most likely come across through the representation of a company's products, services, or a recommendation, advertising, news reports, review and so forth. "An example of indirect response could be an email from one customer forward to another customer".
Delivering a great Customer Experience is the most important for your business. The better experience your customers have, the more return customer and positive reviews you will receive. A great customer experience is your key to business success. Here is some benefit of delivering a great Customer Experience
Increased customer conversions
Increased customer retention
Better customer engagement
Reduce marketing cost.
Customer Experience (CX) is an essential part of Customer Relationship Management (CRM) software, and that the reason why it is important, because a customer who has a good experience with your business is more likely to become a repeat and loyal customer. Click HERE to learn more about What Bitrix24 Application can help your business!
What is Customer Experience (CX) Design?
Customer Experience (CX) Design is the process that enable the design team to optimise customer experience that will bond with a customer through all touchpoints before, during and after the complete product or services lifecycle. They leverage customer centred strategies to fulfill customers expectation at each step of the conversion journey that will leave your customer feeling that they made a well-informed choice to spend their money on your products.
When a company focuses on CX design, their objective is to deliver a great user experience by having the customers to interacting with their brands. The user experience is a journey that includes many touchpoints from initial contact to conversion and retention. When your design team works in CX design, they must optimize those touchpoints so that customers perceive the brand more favourably through all the interactions across every touchpoint of their buying journey.
Customer Experience (CX) Include:
Brand Reputation
Advertising & Marketing
Sales Process
Prices Competitive
Customer Services
Customer Supports
A good CX gives a customer the ability to:
To have a pleasant, meaningful interaction with your company representatives.
Feel positive and gain the trust with your company and everything associated with it
CX Design that building strong connection between Customers and Brands.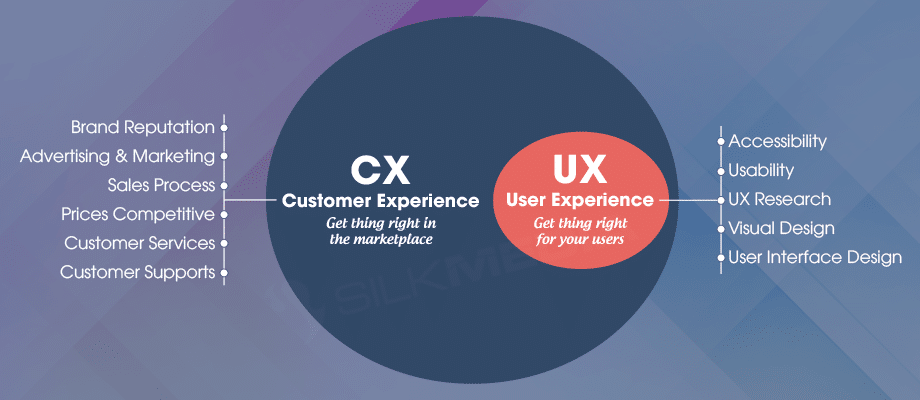 Conclusion
The role of CX designer is mainly focused on enhancing a customer's experience throughout all types of interaction with a company with the focus on regaining the customer experience to maximize conversions. The CX Designer must have a strong foundation of understanding of touchpoints across the entire customer journey and be able to analyse and understand the consumer's behaviour and decision-making tactics.
Whether it is a Customer Experience (CX) or User Experience (UX) projects. We work collaboratively with you to deliver tailored, optimised solutions for your business. Contact Silk Media Web Services.
Did you find information in this post useful? Please leave your thought about this article in the box below. Thank You!
Content edited by Silk Media Web Services
DON'T FORGET TO SHARE THIS POST TO