Bitrix24 Social intranet is the online portal that connect employees across the departments within your company. Social intranet provides you with access to company information, sharing capabilities, work on cross-functional projects and do your day-to-day tasks, and that keep your company running effectively. All of these, enable your employees connected seamlessly, knowledge sharing and collaboration hub that will make your workday easier, productive, and much more fun. Let's take a look at the most 5 benefit of using social intranet in the workplace and how they can deliver results for your company.
1. Effective ways to communicate in the workplace
Whilst email communication is ineffective for real-time communication and collaboration, and it is also a poor repository for company information sharing. Social intranet is a solution that effectively connects your team so they can collaborate, ask question, get answers and share information and communication reach all levels within your company in real time.
By sharing information via social intranet, your team can get faster respond. Instead of one-way communication from an individual to rest of the team. You can communicate with your teammate and show your appreciation towards your colleagues in the Bitrix24 Activity Stream with emoji's, badges, and comment, creating a space to have a dialogue with your company and that the values of open communication and trust among employees.
You can start a private conversation with one or many colleagues, adding additional participants at any time. Private messages can also be sent through the Instant Messenger.
This method of sharing in an open platform prompts discussion and aides in discovering experts within the company who feel comfortable sharing their point of view and expertise. The social intranet feature definitely can make your workday so much more enjoyable.
2. Advantage of tasks tracking that must have
Bitrix24 provides you with efficient tools for task management. Set tasks, add reminders, track task time, add subtasks, and configure tasks dependencies, control employees efficiency and many more! These are efficient for your teams, and organizations to help those complete tasks efficiently without missing any deadlines
Having a solution can help your team keep everything organized while planning and running projects, in a way that is accurate track time, predictable, and profitable and easily collaborate with the team. Bitrix24 software is the most useful tools that can help your company in becoming as competitive as possible, and set you apart from the rest of the industry.
It can help with organising your workload and making sure that you never miss your task deadline. The objective is to have a "360 degree view" of your task, with all your communications in one place. Watch Bitrix24 in Action.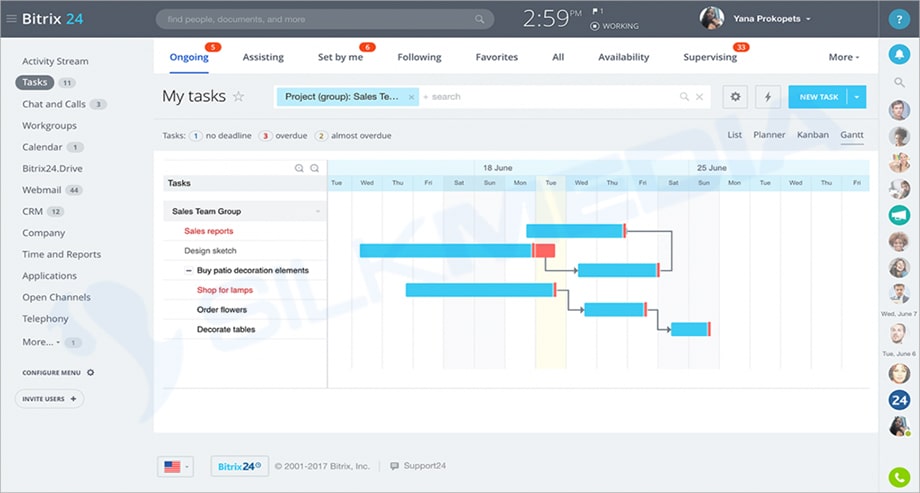 3. Easily share information and document
Bitrix24 intranet's structure prevents information overlap, so that employees share and work with only the files they actually need. The Activity Stream in Bitrix24 is a unified, interactive update feed where all the changes and new additions to the account can be seen in a structure display. Each employee can able aware of what is going on, contribute to discussions, choose what types of updates to display. Because the Activity Stream can be personalized by each user.
Bitrix24 Activity Stream provides users with real-time updates, smart following, notification settings, and company-wide announcements. You can schedule events, attach files, and receive immediate feedback from your colleagues, all done inside your personalized Activity Stream. Watch Bitrix24 in Action.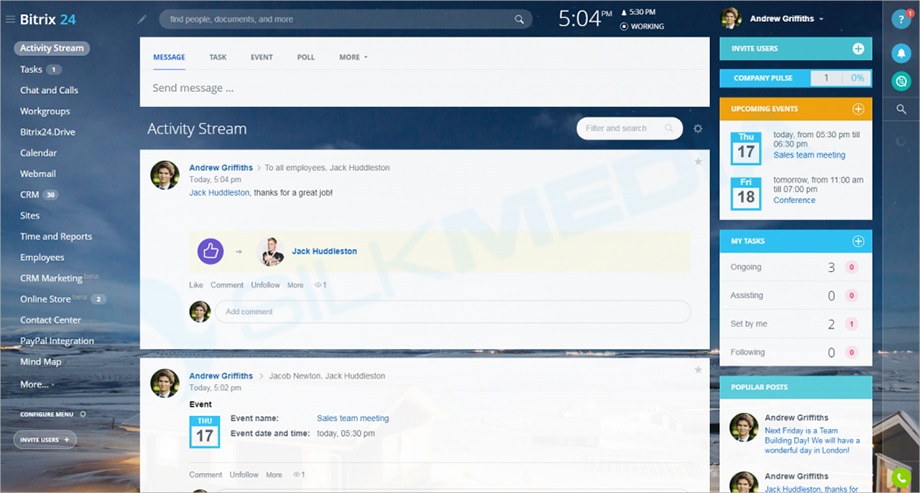 4. Creating engagement content
Creating engaging content means creating a content of any type whether a new perspective, an unexpected laugh, bits of knowledge or something helpful, inspiring, or entertaining. Engaging content gives your reader a glance at something that they has not seen before, but can relate to in some way.
Activity Stream in Bitrix24, the tools that allow you to create engaging content of any type, whether it be a blog post, meeting notes, a marketing campaign plan, or product requirements. The Activity Stream allows users to be aware of all the current activities pertaining to them, such as new messages, comments, files, workflows or tasks notifications, etc. You can create tasks in Activity Stream, send appreciations, make announcements, run workflows, comment, and like posts, create polls, etc.
The main purpose of the Activity Stream is to improve internal communication in your company and make it easier. Watch Bitrix24 in Action.
5. Fostering a positive workplace culture
A positive company culture has values that every employee knows inside out. Company values and mission are accessible and branded into all of the company's internal and external communications. A positive environment often encourages collaboration workplace culture emphasizes each employee's strengths to make the company more productive and efficient.
In order to bring out the best in your employee, you need to create an environment that they can feel comfortable sharing knowledge and opinions. The environment that mix of your company leadership, values, interaction, behaviour, and attitudes that contribute to the emotional and relational environment of your workplace. Social intranet platform has valuable tools to improve productivity and work relations at the same time. Direct chat communication options, notifications and task and project management, are some of the many features on the market that nurture efficiency and transparency. When employee can be able communicate with their teammates effectively, questions and feedback are responsive and clear direction. Employees become true team members to accomplish their tasks together in their best positive way. That enable them to deliver a quality of work beyond the team leader's expectations and this keeps every employee within your company connected and motivated at all the time. Watch Bitrix24 in Action.
In conclusion
Bitrix24 is a business software tools come with social intranet feature that boost collaboration and communication among employees. It also brings efficient data management through its cloud storage services. By automating sales and marketing processes, Bitrix24 sers can also enjoy advanced task management and improved teamwork in the Workplace. The right intranet platform can transform and take your company to the next level, your business operation with social intranet software, and you will be amazed at the results.
Would you like to see Social Intranet in action? Get in touch with us for a demo!
Content editor by Silk Media Web Services