The new phone book is Google, Bing or Yahoo, and more consumers are using search engines to search for local business and make purchasing decisions on both PCs and mobile phones devices. If you don't have an efficient search engine marketing strategy, your business is missing out on a fantastic opportunity to generate new leads and customers.
Find out more about: How Google's Site Crawlers Index Your Site
Learn more about keywords: "Near Me" Google article.
Find out more about: How Bing's Site Crawlers Index Your Site
The sooner you begin your local SEO campaign, the faster you will witness improvements in your company's reputation rating. Because of their reputation on Google, Bing, or Yahoo, businesses who appear in the local search results will have a significant benefit. As a result, local SEO is an important asset in digital real estate for your company. This is useful to all types of businesses in terms of growing revenue.
In this post, we'll examine many of the local SEO optimisation approaches that can help you boost your business's online reputation. If you want to learn more about how "Search Engine Optimisation" works, read this article: What is Search Engine Optimisation (SEO)?
Continue reading to find out more!
What Is Local SEO?
When you use your mobile phone to search for a business or place near you, you'll find local search results across Google Search and Google Maps networks. For example, if you search for "Thai restaurant" on your mobile device, you will most likely get local Thai restaurant results.
Local SEO is a type of search engine optimisation method that makes your business more visible in Google, Bing, and Yahoo local search results. Consider how frequently you use your mobile phone to Google information, such as "Chinese restaurant." The top local search results displayed aren't always the biggest Chinese restaurant franchises in Australia; it's usually a local family-owned restaurant near to your current location.
This demonstrates how effective local SEO can be and how it can help your small business keep ahead of the competition online. Local SEO may help a company generate more leads with a high conversion rate in the long run. Local SEO is critical to a company's success these days. You may increase your local search ranking by using our local SEO services.
Why does your business need local SEO?
Search engines are extremely crucial in establishing your brand's reputation. It's not enough to have a beautiful website to get people to locate your business on the broad internet. This is where local SEO comes into play. If your business has a physical address and provides services to specific areas, it can benefit from local SEO. When the local SEO campaign is done correctly, it will enhance your business's identity rating and position your business in front of the relevant customers, resulting in more sales.
What is the significance of this for small businesses? The keywords "Near me" is no longer limited to locating a specific location. It's now about locating a specific item, in a specified location, and within a specific time frame.
In the 2018 Think with Google article, the report shows a 900% increase in the past 2 years in searches for the keyword:
150%+ growth in mobile searches for "near me now" (for example, "food near me now," "gas station near me now," and "delivery near me open now")
900%+ growth in mobile searches for "near me today/tonight" (for example, "open houses near me today," "cheap hotels near me tonight," and "movies playing near me today")
200%+ growth in mobile searches for "Open" + "now" + "near me" (for example, "restaurants near me open now," "stores open near me right now," and "pharmacy near me open now").
Source: https://www.thinkwithgoogle.com/marketing-strategies/app-and-mobile/near-me-searches/
Learn about the 900% increase in searches. Read the Think with Google article about how "Near Me" helps local businesses grow.
It's evident that people's expectations of getting exactly what they want, when they want it, are increasing. That is, if your business is close to where someone is searching, offers services or items they might be looking for, and has well-optimized local business listings, you'll be more likely to be discovered by potential clients online.
Here is a sample of small tradesmen businesses that popped up in a Google local search among big businesses when you searched for "painters melbourne western suburbs."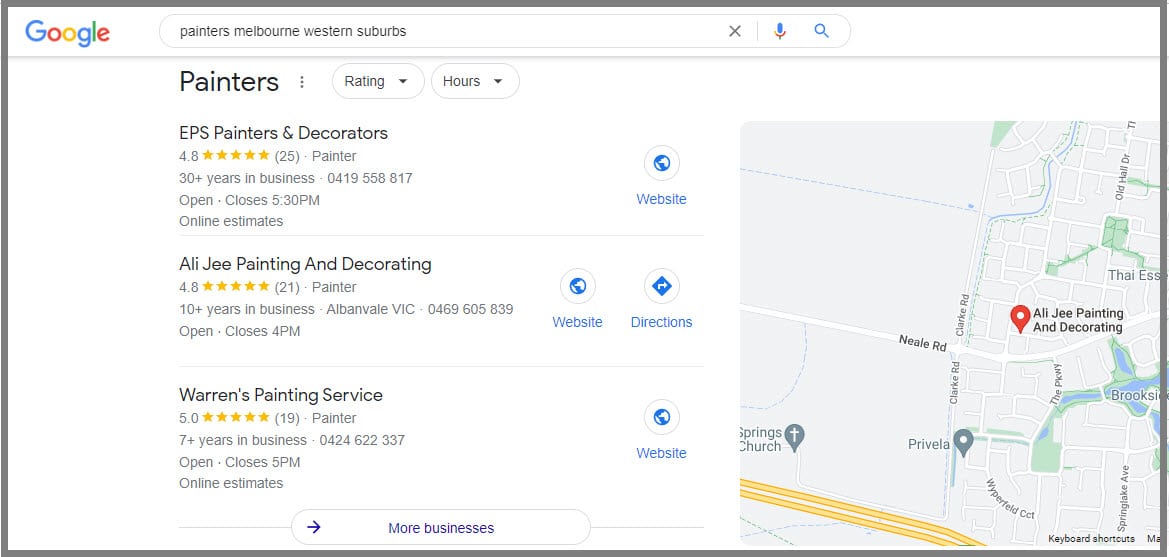 Source: Google local search result for "painters melbourne western suburbs"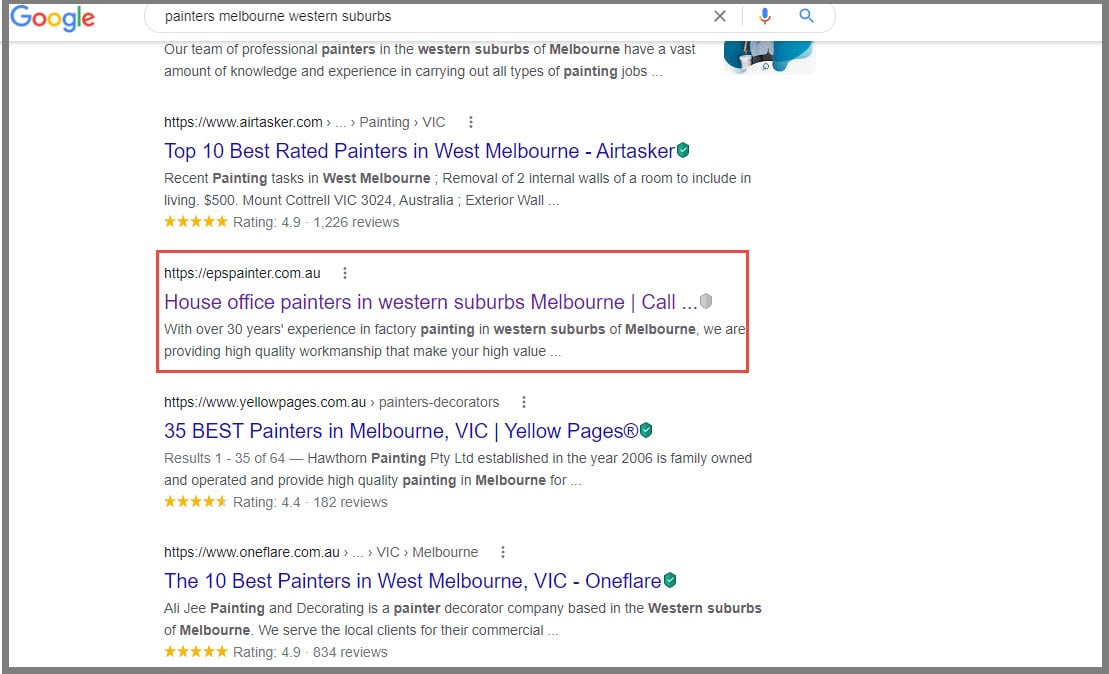 How to build a strong local business profile?
People are often looking for local businesses on Google. There are a number of local SEO strategies that might assist your website in attracting more targeted visitors. This will help increase your local SEO campaign and improve your local search ranking. There are numerous aspects to this, so let's focus on the most significant ones.
Ensure that your business name, address, and phone number, email address, website address are consistent across any online directories where you've registered. If there are any inconsistencies, Google is likely to lower your company's ranking in local search.
The following is a summary of the most significant local search boosts, in our opinion.
1- List your business on Google My Business (GMB)
Use Google My Business to claim and update your Google Business Profile business information to boost your local ranking. Your Google My Business is a free service that allows you to control how your company appears in Google Search and Maps. You can connect with consumers such as publish updates, list your products and services, business operation hours, contact information, accept online orders or a link to your website.
Learn how Google collects company information for its search results.
Click here to learn how to get your business listed on Google My Business.
Watch this video to learn how to get your business listed on Google My Business.
Here is a sample of small tradesmen businesses listed on Google My Business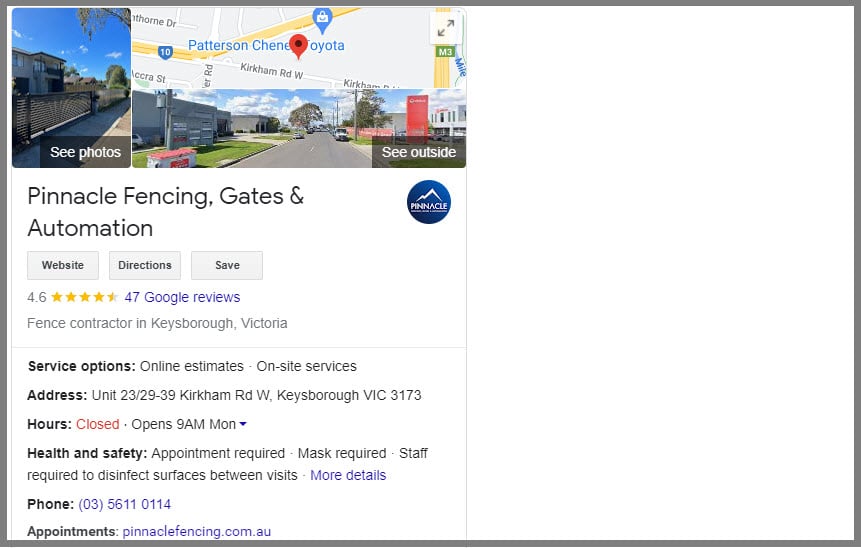 2-List your business in the Australian Business Directories
The finest Australian directories are shown below. to ensure that applications are authorised, they've all been put through their paces.
True Local is an online directory of Australian businesses that attracts millions of monthly visitors. Users can quickly locate what they're looking for by sorting search results by relevance and location. Register your business on truelocal.com.au.
Yellow Pages was established in 1994 in Australia, the world's first online local directory, listing your business including, phone numbers, address, email addresses, websites for a free local Australian business listing visit: yellowpages.com.au
Word of Mouth is Australia's most popular business review website. It is a user-generated directory where users may discuss their business experiences. Visit wordofmouth.com.au to learn more about how to sign up.
Why do I need a local SEO expert for my business?
Building a business takes a lot of time and effort, especially when it comes to expansion. Your duty as a business owner is to manage your company's operations, manage your finances, and advertise your services or products to create leads and turn them into sales.
Digital marketing is critical to the success of your business. One of the most important aspects of any digital marketing strategy is having a great website. In addition to other marketing techniques like email marketing and social media marketing, a website is the foundation for your online presence.
Search engines now play an important part in building your brand's reputation. Having a fantastic website isn't enough to get people to find your company on the vast internet. You need to find a way to get the word out about your company. Search engine optimisation (SEO) comes into play here. An SEO agency like us can assist business owners in developing websites that are speedy, dependable, and user-friendly, allowing them to rank higher in search engines and generate more high-quality leads and conversion rates.
We can help business owners create websites that are fast, dependable, and user-friendly, allowing them to rank higher in search engines and produce more high-quality leads and conversion rates.
GET A FREE WEBSITE AUDIT