As a Web Developer, our aim is to keep your website live (99.9% uptime) and maintains web pages speed performance at the level of your expectation. In order for your website to show up in the first page in search results, the search engines has to know what your website is about. One of the main way for the search engines is crawling your website through the content, it's all about the process of how search engines work.
With this in mind, the content is not just for the search engines only, it's also for the users visiting your website. We all want users to interact meaningfully with what we build, so if it's a blog, we want people to read and share your posts, or if it's an online store, we want the users to buy your products and return to your site in the future. So let's talk about why your website content is so important to search engine ranking and converting visitors to customers.
Creating your website content
By having a useful content on your website, you can quickly improve where you are ranked on the search engines such as Google. As long as the content is well written, unique and useful information, it can have a huge impact on where you rank on search results. Depend on your Business industry, your purpose may be just to provide information to users, to sell products or to offer a service to client. You should always optimize your website information in such a way that the search engines know what it's about. That way, the search engines will index your webpages content and store in its library before the user search. When the user search by enter "key words" such as Google search, the search engines algorithms sort through hundreds of millions of webpages in their Search index to find the most relevant, matching and useful content and display in the search results for what user looking for.
When users lands to your website, users most likely looking for something such as a product information, a service that you provide or just general information. The best way to keep your visitors stay on your website is to offer them the content that interests them. For example, if your site is selling fashion clothing, you can engage with your visitors with the content about the style and fashion trends, or if your website is providing personal training, you can engage with your visitors with the content about the Nutritional and massage/sport therapy advises.
One of the ways to provide the information, product details or service is through the content, providing visitor with relevant information that they're looking for in a clear and easy way can keep visitor on your website longer and share your website content with others. This is a main ingredient that can increase your website ranking organically on search engines such as Google.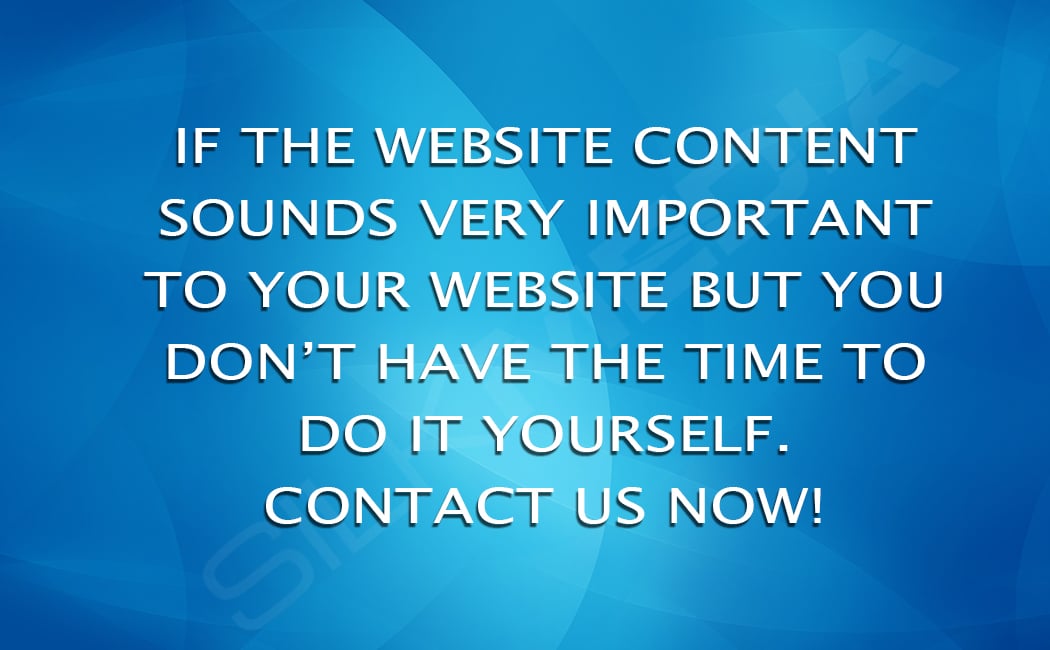 Content is just one way in which to increase exposure for your website ranking in the Google Search. There are many different Ranking Factors that need to be considered.
If the website content sounds very important to your website but you don't have the time to do it yourself. Silk Media Web Services Here To Help. Please Call on 1300 332 882 or Send an Email
WORK SMARTER, NOT HARDER!