The year 2020 had changed our life, many small businesses had reduced their staffs, as the pandemic continue, we have learnt that many bricks-and-mortar flowers business had been impacted severely, with the physical shops closed and buyers buying fresh flowers online. As the consumer behaviours has been shifted forcing many bricks-and-mortar florists to adapt quickly into online eCommerce store with same day flowers delivery offer.
Many people started buying flower online for same day or next day delivery to home, hospital or nursing home during the pandemic. The online shopping and social media will continue to play a significant role in the futures on how the consumer buying flowers. Your eCommerce florist website is your showroom, and it is the greatest marketing tool to show off your creative and decoration of birthday, anniversary bouquets and flowers arrangement skills.
If you are a creative florist and currently have a bricks-and-mortar flower shop, you should consider having an eCommerce store for your business, as the online flowers business booming, and the business opportunities are waiting for you to take part to double your sales revenue.
High conversion eCommerce flower website.
Here is the most beautiful and result driven florist website!
eCommerce website solutions for florist to sell flower online, multi-channel sales, sell flower on Facebook, sell flowers on Instagram. Silk Media Web Services has the right tools, technology, and experience in developing high conversion rate ecommerce website for florist.
Our experts design team will work with you and to understand about your business to get a better idea of your brand identity. We conduct research and design a flower ecommerce website that is engaging and optimized for user experience to drive traffic, sales, and repeat customers. Our solutions specifically designed for florists to extend their business from bricks to clicks, with all the features that helps the florist business owner to operate their online flowers business during the pandemic recovery.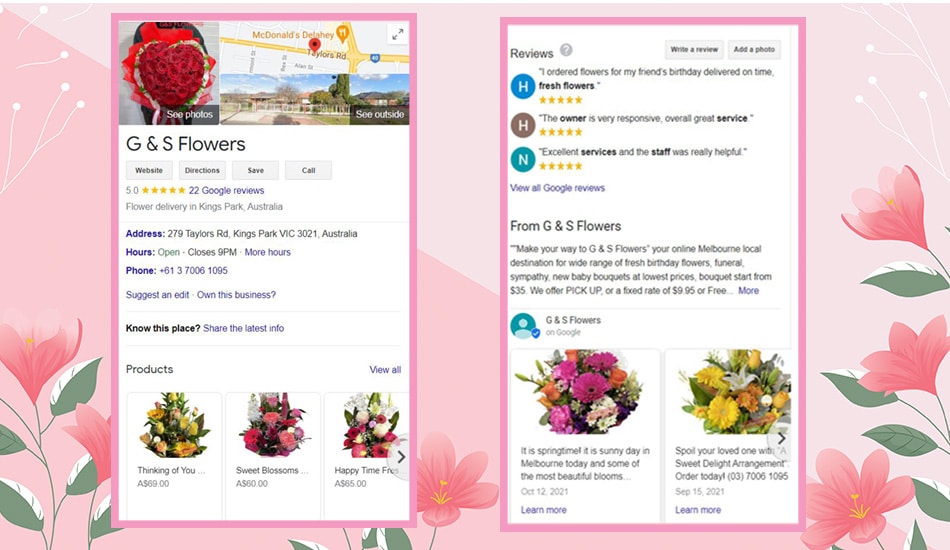 eCommerce website features for florists
Delivery address validation: this feature allows buyers to check flower delivery address before placing the online order.
Variation flower images: show a different set of flowers image such as flower sizes or flower colours to drive sales and increase conversion
Card message: allows buyers enter card message for each purchase products, for example customer order 1 bouquet and 1 indoor plant for 2 recipients on the same order.
Add on product allows buyers to personalize their order by add on a birthday balloon, a full-size sympathy card, to optimize the customer experience on your website.
Up-Sells allows you to recommend products instead of the currently viewed product.
Cross-Sells allows you to promote some certain products can buy with bouquet in the buyer shopping cart based on the currently viewed product.
Free shipping notification your buyers love free shipping offer, show the shipping areas that has free shipping with "minimum order amount" to generate revenue streams through increased sales.
Same day / Next day order cut-off time: powerful feature that allow to set a same day cut-off time, and next day cut off time. You can extent your cut off time on a quiet period to maximize your revenue.
Many more see full details of ecommerce website features for florists
One of unique eCommerce website designed G & S Flowers
We have all your professional ecommerce website features covered for your flower business, so you can manage your flower website all in one place. The below is an facebook shop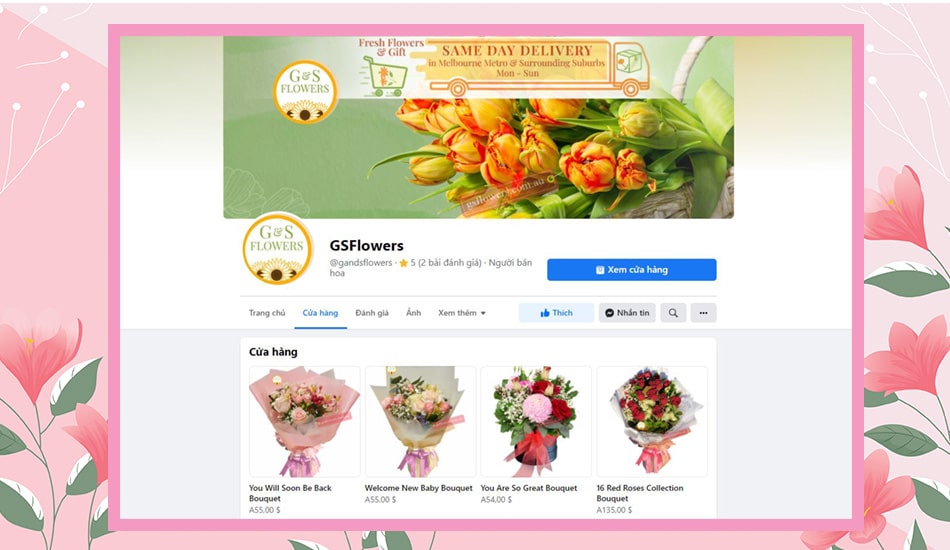 Give your customers multiple payment options
Online flower shoppers are used to certain payment options to pay for their purchase, by giving your customers another way to pay that will definitely increase the sales conversions and can be very beneficial for increasing sales revenue. By integrating trustworthy payment gateway like accept credit cards, PayPal, Afterpay, Zippay, Apple Pay
With the recent introduction of "buy now, pay later" (BNPL) solutions, many businesses are now adapting to integrate these programs with their online store. For more information about payment gateways please visits:
Need help? Contact Us Now
Build for growth and success flower business.
We work with you from initial stage to deliver result and your new flower website needs to work as hard as you do to convert potential leads into customers. Our team will work with you to build high quality flower websites to maximise the user experience and ensure that the user don't leave your website without converting leads into sales.
With so many credibility coming through by having an ecommerce website online, it has never been a better time to have your own flower business website with a small amount from $299 per month to get your business online. You can boost your average order value by more than 35% and increase daily sales from your ecommerce store and bricks-and-mortar store.
Flowers business on Instagram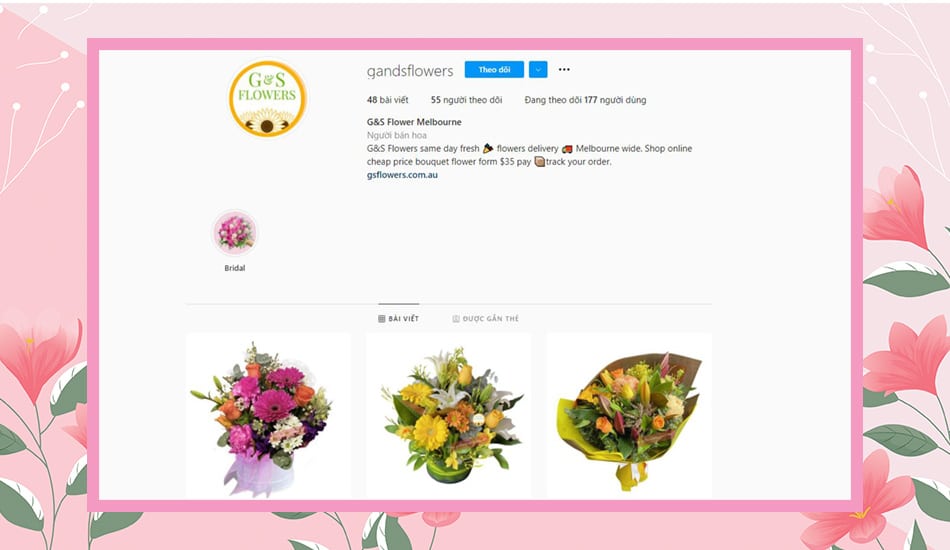 Ready to get started with us?
Silk Media Web Services have the experience in designs and optimizes the best eCommerce flower website features for florists. For more information about our florist e-commerce websites package" click here" and how we can help you reach a wider audience with our quality eCommerce website design. Contact Silk Media Web Services Now!
All content Copyright © 2021 Silk Media Web Services unless otherwise stated.
DON'T FORGET TO SHARE THIS POST TO