When the users find your business on social media, van, car signages, or on google map, they will look up to find more about your business and services. Make a great first impression with an impactful painting website that presents your business as a trust local painter in the painting industry is a must.
No matter how small your painting business, having a painting website will create brand awareness online and convert prospect into local customers. Your painting business being on the web is no more limit to the big businesses, potential customers who are looking for painting services can reach your painting website at anytime and anywhere. Therefore, having a professional and high conversion website for your painting services is the most important marketing assets for your business.
Does a Painter really need a website?
We strongly believe that "THE ANSWER IS YES"
It is a misconception that painters DO NOT need a website, everything today is about being accessible online, consumers are no longer using newspaper advertisements to find local services. Your painting business website is your showroom on the web, and it is not only helps you to promote your services, but it also allows you to distinguish your business from your competitors.
Having a painting website for your business is a smart choice and the right investment for your painting business. It is worth spending a pocket amount of money to have a professional painting website to establish your brand identity and convert prospect into customer.
Check out professional painting website package start from $899 with three (3) payment instalments.
Leading Website Designer for Painters
Silk Media Web Design specialise in website design specifically for painting business. We work with painters and conduct users research to understand the local customer needs, through this processed we understand what works for painting businesses. We build modern, professional websites that deliver high results, and our process is simple, cost effective. We have offered different painting website designs packages at an affordable price, for full detail visit Painting Website Design Packages
Our focus on absolute best practice and we offer 100% customer satisfaction. We deliver painting website that meet your expectations and support your objectives through the combination of technical, creative designs and understanding your business needs. We integrate the right features to build a high conversion painting website and it is the first step in marketing your painting business.
If you are a painter looking a new painting website, please get in touch with us by using the buttons below.
GET A QUOTE
Boost your painting website online visibility
With more than 50% of website traffic coming from mobile devices and your customers expects a fast and easy to navigate website whenever they want it. We design bespoke and responsive painting website with cross devices compatibility. Our creative designer will work with you to create a unique UX design landing page, based on your painting business requirements to showcase your services that deliver a great user experience (UX) that helps potential customer decide to book your services over your competitors.
We design your painting website that is 100% compliance with Google, Bing, Yahoo search engine optimisation (SEO) guidelines. SEO compliant allows your website to be crawl, indexed, and understand your contents more accurately, and to achieve best performance in organic search results.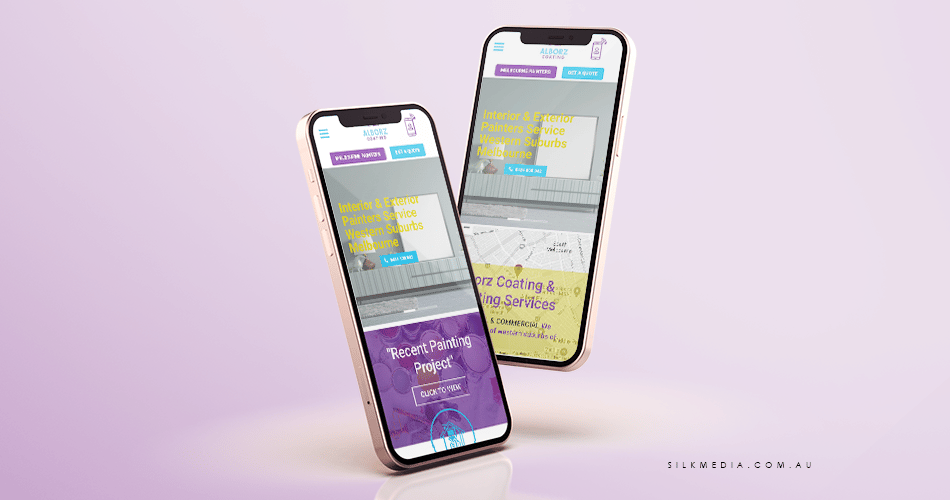 Beautiful Website Landing Page
We design a landing page with relevant contents that customers looking for and want to book your services over your competitor. We are dedicated to work with you to elevate your brand and gain credibility with high conversion website redesign
Service Contract Form
This feature allows you to create formal contract forms in PDF format with digital signatures. Use digital signatures to sign contractual and email the binding service contract documents to you and your customer.
Result Driven
We work closely with painters and conduct users research to understand the local customer needs, we map out new conversions focus on customer's need to gain more leads through your website to deliver the results you dream of through this processed we understand what work for painting business
Outshine your competition online.
We design painting website specifically for painter that maximize conversion to make your business goals possible. We are working together with tradesmen business owners to maintain your website contents and ensure your website is always with fresh contents and up to date with your services. We provide the support to you so you can focus on your business operation efficiency to push your brand forward, with Silk Media Web Design the possibilities are endless.
Get your painting business online.
If you are a painting business owner and serious about the long-term prospects of your painting business, you will go for professional painting website design. Professionally made websites look better, work better, and are easier for painting business owners to deal with. We will update all your website content and take care all the design work so you can sit back to focus and on your business operation. Let us take care all your painting website design with a small fraction of an investment $899 website package with three (3) payment instalments, your first payment of $299 to get your painting business online. If you're ready to build the best website for your business, then feel free to contact us.
Take your painting business to the next level with our affordable website design package!
All content Copyright © 2022 Silk Media Web Design unless otherwise stated.
DON'T FORGET TO SHARE THIS POST TO